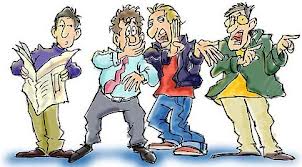 Years ago when I was 16 I was really interested in knowing about celebrities and other people's privacy.I was addicted to gossip magazines.
After awhile I thought why I should be delighted about them ! for example is it important to know about the favorite color of them! What is the useful result for me!

Actually most of us like to exaggerate something about other people around us,poor people cause they get so upset about such these sentences we say sometime. One day I saw one of my friends. We meet each other once in a blue moon and she started talking to me and said now tell me about your children are they alright? How old are they?...and couple of questions!
It was a great surprise
cause I didn't get married! I split my sides laughing

Why should we care about this information which doesn't any affect our lives and most of them are fake!
Anyway it's the way of life I guess, we can't do anything.